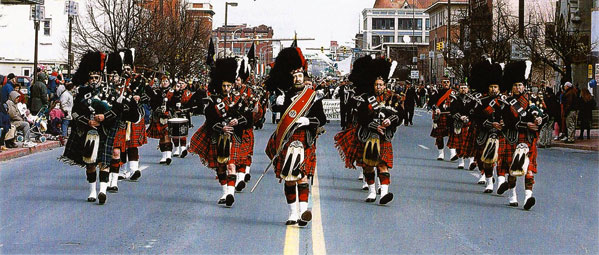 Penn York Highlanders Ladies From Hell



The Penn York Highlanders were formed in 1956, making it one of the oldest active pipe bands in North America. This year marks our 67th anniversary!

The band derived its name from the fact that its members are drawn from both sides of the Pennsylvania and New York border. Our headquarters in Athens, PA, being within the Endless Mountains Region of Pennsylvania, is reminiscent of the Scottish Highlands.

The name "Ladies from Hell" is military in origin, and was given to the Scottish Highland regiments of World War I by the Germans, who discovered on the field of battle the ferociousness of the soldiers clad in kilts.

Over the years the band, an average 16-member adult unit clad in colorful Royal Stewart tartan and playing an ever-expanding repertoire of traditional Gaelic tunes, has won numerous awards and been granted many honors, including the distinction of playing before the Prime Minister (Taoiseach) of the Irish Republic. The Highlanders also enjoy pride of place as the traditional leaders of the annual St. Patrick's Day parade in Scranton, PA, which is the 2nd largest in the nation.

Their greatest pride, however, comes in being asked to participate in celebrations throughout the Finger Lakes/Leatherstocking regions of New York and the Endless Mountains of Pennsylvania, and to return year after year.




Interested in becoming a Member?


We are continually training new bagpipe and drumming candidates.
Tutoring is available on bagpipes, snare, bass, and tenor drums.
Individual attention is provided by band instructors, using books, video and audio. Uniforms and instruments are furnished by the band.
Any person interested in joining is always welcome. No musical background is necessary. We practice every Thursday at 7:00 PM at the Athens Borough Fire Hall on South River Street in Athens, PA.